Online Classes: Follower's Technique and Lady Styling by Anna Russa!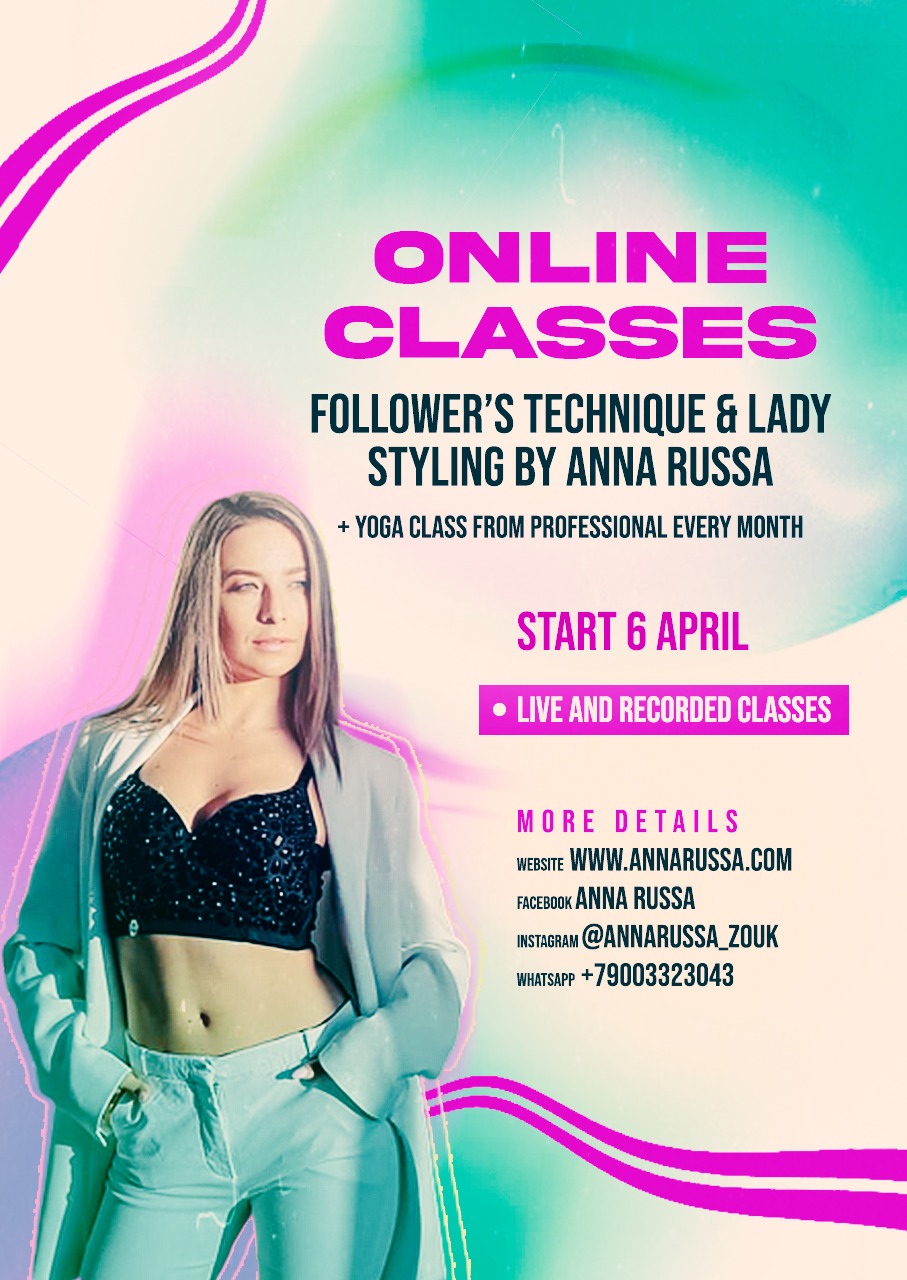 Would you like to bring your dance to a whole new level?
Join me live and you will learn how to dance elegantly, gracefully; while adapting your dance to any kind of partner! This way, you won't lose your identity: you will learn how to dance smooth, light and with confidence. We will cover areas such as: balance, footwork, leg lines, posture, frame, detailed body movement and isolation, head movement, turns and spins, lady styling as well as NEOZOUK techniques, and more!
START 6 APRIL – limited spots!
Online course includes 4 modules. Each module focuses on a specific topic. Every module has 3 classes (1,5h each class) with Anna Russa and 1 YOGA CLASS with a professional trainer Anabel Belikova. Yoga class will focus on the topic of the module.
MODULES AND DATES:
MODULE 1. Everything about legs
6-27 April
MODULE 2. Everything about body
4-25 May
MODULE 3. Everything about arms and turns
1-22 June
MODULE 4. Everything about head movement
29 June-20 July
Online classes include:
1h Zoom live per week + 15 min stretching + 15 min Q&A
1,5h yoga class in each module with a professional instructor
Online access to all videos after classes in a private group on Facebook (you can watch and practice it at any time)
Individual couching after every module (answering questions)
Classes in three languages:
Comfortable schedule of classes for your timezone!
3 ways of payment:
Card Sberbank for Russians
Pix for Brazilians
PayPal or Wise for other countries
OFFER
1 module subscription – €50
2 modules subscription – €90
3 modules subscription – €130
4 modules subscription – €160
1 class – €15
For Russians and Brazilians – special price in national currency.
PROGRAM
Module 1. Everything about legs and footwork
06/04 – Exercises for balance, strengthening and beautiful leg lines
13/04 – Everything about steps. Variations of walking
20/04 – Leg technique and styling
27/04 – Yoga class focused on legs
Module 2. Everything about body
04/05 – Posture and exercises for body
11/05 – Body movement and isolation
18/05 – Flavor in your body movement
25/05 – Yoga class focused on the body
Module 3. Everything about arms and turns
01/06 – Frame and arms technique
08/06 – Arms styling
15/06 – Turns technique
22/06 – Yoga class focused on arms
Module 4. Everything about head movement
29/06 – Head movement technique. Types of head movement
06/07 – Turns with head and finalization
13/07 – Travelling head
20/07 – Yoga class focused on upper body and neck-collar zone
Contact Anna for more details:
WEBSITE – www.annarussa.com
EMAIL – vozhevskaia@gmail.com
FACEBOOK or MESSENGER – Anna Russa
INSTAGRAM – @annarussa_zouk
WHATSAPP or TELEGRAM – +79003323043